DRIFT MATSURI MEDIA INFORMATION

Media, you guys and girls are the ones who give us as event promoters, drivers and fans something to look back at for years to come!
With this in mind, we need to ensure you are all positioned in the best spots and safe from harms way at all times.
Attend Media Briefing in the morning
Sign in by using our digital waiver here
Wear your High visability vest or shirt at all times
Stand only in the acceptable areas (as listed below) when trackside - this is for your own safety and laid out by Hampton Downs Motorsport Park, failure to do so will result in us having to stop the session and either wait for you to get into the correct spot or alternatively be removed from track side for the remainder of the event.
When asked to move or if you are wanting to make your way off the circuit. Please do so with some pace so you don't hold any sessions.
If you need to leave the circuit at any point to go into the pit area (and it requires you to cross the circuit) go to your nearest marshall point. They will have a radio and will be able to call in for traffic on the track to be stopped for you to safely make your way off the track.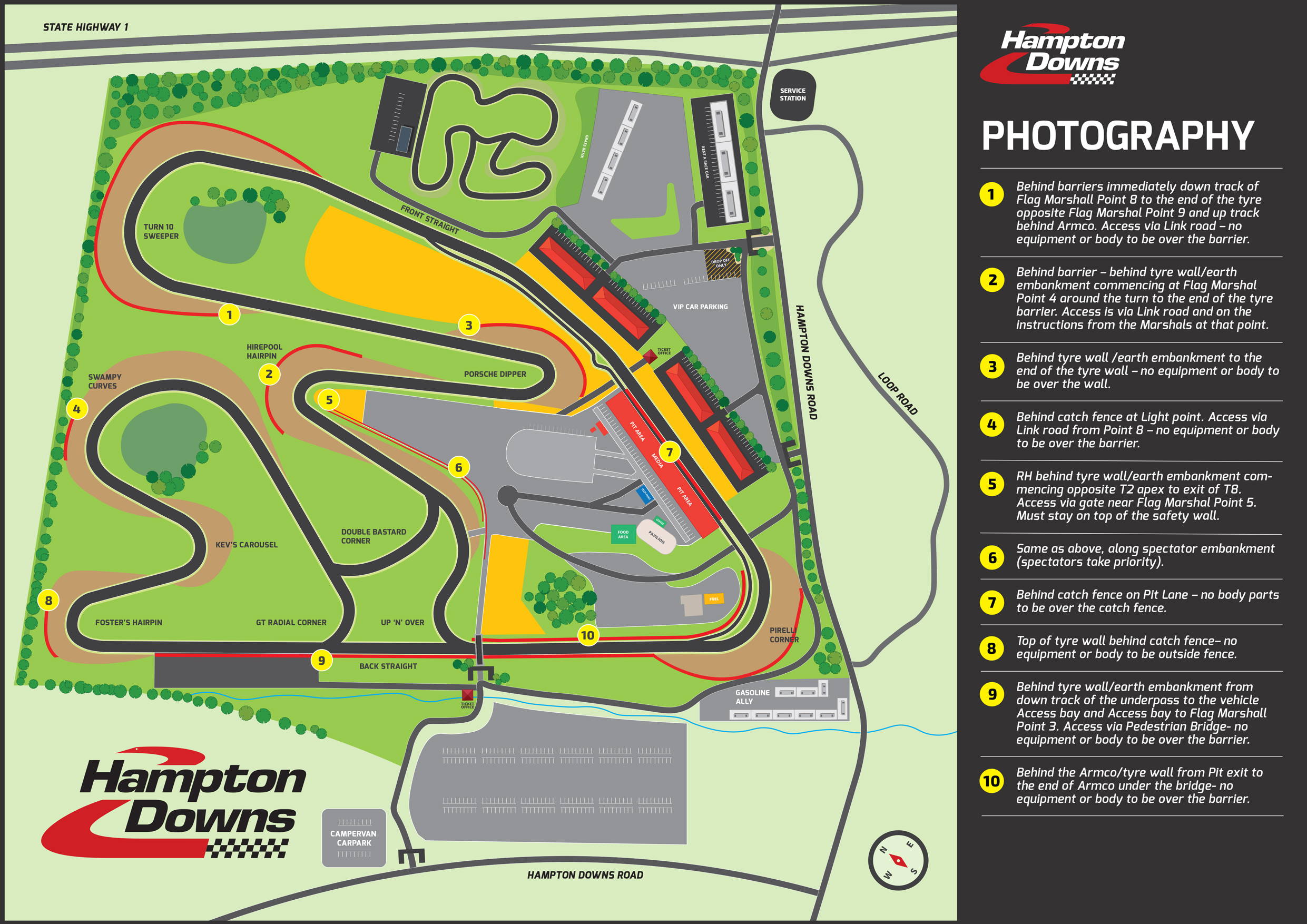 Being out on the circuit with sessions running is a risk and we need to be sure you know where you are standing is safe. These main areas of risk are out the outside edges of the circuit where cars could go off and potentially hit you.
We suggest you don't bunch up with each other, there are so many vantage points to get a completely different perspective of the event from. Think outside the box!
To fly a drone at Matsuri you must be approved by our team, this is usually restricted to our own personal film crew documenting the event/footage for future event promotion.
If you would like to fly your drone at Matsuri, please send us an email request.
All drone pilots accepted must then get in contact with Aviation NZ for final approval
Drift Matsuri use of images & video
All successful media allow Drift Matsuri to use non watermarked images on our social channels, website, future event promotions or around the office. Where possible we appreciate a onedrive or googledrive etc link with HD images available for download.
We will try our best to credit you in your work when posted on social media, however when posting hundreds of images and video, this can be forgotten. Simply message us and we will happily tag you in the post!
WANT TO APPLY FOR MEDIA ACCREDITATION
Head through to our Media Application Form
If you do not have a media pass, you are still more than welcome to come along to the event and shoot photos around the venue. You will just not be able to access the circuit for infield shots.
We encourage seeking out sponsorship for your photos, it can be an easy way to cover some costs of getting you to and from an event!
If this is in your scope we ask you place these logos tastefully along the bottom of the photo to a smallish size.